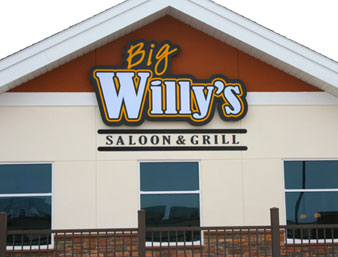 Williston, ND – Big Willy's Saloon and Grill
Restaurant Properties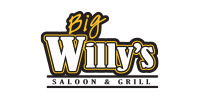 Big Willy's Saloon & Grill
3701 4th Avenue West • Williston, ND 58801
Phone: 701-577-3703 • Fax: 701-577-3704
bigwillyssaloon.com
---
Overview
Located in the heart of America and in the heart of oil country, Big Willy's Saloon and Grill was established to be a welcoming and comfortable break from the hard work and long days. The namesake of Williston, North Dakota, Big Willy's isn't a chain restaurant with a cookie-cutter menu. We've tailored our entire dining experience, from the menu to the relaxed environment to Williston. Big Willy's menu features classic comfort foods like ribs, fish and chips, steaks and burgers. And in the spirit of the heritage of exploration and discovery, we also feature new ideas developed by our master Chef like light and flakey Parm-Crusted Tilapia or Boursin Chicken.
We also know that Big Willy's guests will often arrive with big appetites-very big appetites–so we developed a burger that is guaranteed to NOT leave you wanting more. We call it the Frac-Attack and you'll be a conquering hero if you can finish it off. Basically, it's everything you love combined into one massive burger feast – from a full pound of burger to crispy fried onions. But you have to see it to believe it.
The Saloon at Big Willy's is everything you want and expect from a bar. Friendly bartenders, room to relax and hang out with friends and, of course, a great drink selection. From classic cocktails and cold brews to hot new drink ideas and a great wine selection, Big Willy's makes it easy to unwind in comfort with your favorite beverage.